Founded in 2002; Artistanbul focuses on three main areas:
Community Management
Educational Technologies Development
Enterprise Software Development
Besides this services, Artistanbul provides end-to-end solutions to their clients in different areas as digital media, brand strategy and communications, business and ecosystem building.
Artistanbul has developed value added projects to a large number of clients including TÜBİTAK/Pardus, Research in Motion/BlackBerry, Google, Turkcell, IBM, Arçelik and iDATA.
Free Software and Open Standards
From the first day of its foundation, Artistanbul has taken side with free/open software philosophy and open standards in the projects it developed. For this reason; in our software and community projects we care to use free software components and contribute this softwares we take advantage of.
Precisely because of this reason, Artistanbul supports its employees' effort for open sourced side-projects. Therefore; you can see many of old/new Artistanbul employees' name numerous places from Mozilla Firefox browser to LibreOffice and Django development platform to barcode reader libraries.
Employee Well-Being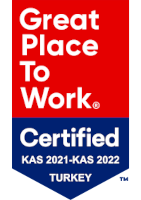 Artistanbul consist of a hardworking team that uncompromise from happiness. Because of that, our working hours slightly differs from corporate firms. Depends on our work load density, we spread on effort our employees to work from home at least one day of a week.
We don't like working at weekends; we can drink colorful and interesting drinks during work; our annual leave days are more than mentioned in the labor law; we have our employees make private health insurance; there are many our co-workers who come to office with bicycle.
The happiness of employees at Artistanbul is continuously monitored and measured in terms of corporate culture and key issues such as agility, ability to change, innovation, leadership and health. Artistanbul supervised by independent international audit program Great Place to Work, has been chosen as one of Turkey's best employers every year since 2020.
Transparency & Accountability
In Artistanbul nobody has a title in their business card, including boss. Many decisions are taken collectively and this decisions are fulfilled with work sharing.
Artistanbul spreads on effort to execute the same approach with its customer relationship. So, all tasks are taken atomically with an issue tracking system. Created tasks opens for discussion with participation of customers and a past traceable process are implemented in written language.
Sustainability and transparency are most important points in the projects we developed. For this reason, documentation processes are not a luxury but essential components in our projects.